Why Drink To Earn Will Be The Future Trend?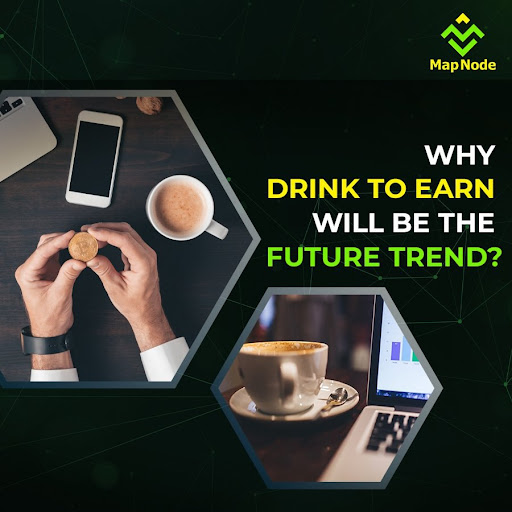 Chilling at your favourite place with your favourite drink and having the chance to earn coins, all at the same time. The future of crypto in the F&B industry is here!
Similar to game to earn and move to earn, now there is drink to earn. For all the foody souls and travel lovers out there, this is your time. With MapNode, you can:
✅ Mine coins by checking in the places that associated with us.
✅ Use NFTs to increase the hash rate.
✅ The place you choose can also help you increase the hash rate with its NFTs.
Mining coins by checking in places is the new crypto trend. You will have the best of both worlds with us. Just get yourself a spot and enjoy the drink while let mining tools do its job. 
How to hold MapNode Token?
After 4 funding rounds which are Seed round, Angel round, Private round and Publish round, the MNI will be listed on PancakeSwap decentralized exchange.
For the seed round, we:
✅ Offer 20,000,000 MNI in total
✅ The opening time for sale is 03/09/2022
✅ The round will last for 30 days
✅ The price of a MNI in this round is $0.02. After being listed on PancakeSwap, it will be $0.4.
✅ To buy the MNI, please use BNB (Binance coin)
👉 When buying at this round, the investors will have 20% of interest.
MapNode disbursement policy for this round is:
✅ Unlock 20% of the total purchased tokens to the wallet
✅ Lock 4 months starting from the purchase date
✅ Unlock 10%/month and divide equally 10 months
👉 Example: On 03/09/2022, Mr. Michael buys 1000 MNI. After Mr. Michael has done the transaction successfully, MapNode system will unlock 20% on total for Mr. Michael, which is 200 MNI in this case. Mr. Michael now will have 200 in his MNI Wallet.
For 800 MNI left, it will be locked in 4 months and divided by 10. There are now 10 blocks, each block has 80 MNI. On 03/01/2023, the system will unblock the first block and tranfer it to Mr. Michael MNI Wallet. On 03/02/2023, the system will unblock the second block and transfer it to Mr. Michael MNI Wallet, and so on until the end of 10 blocks.
Alongside the fact that investors will have x20 of interest when buying MNI in the Seed round, MapNode also runs an affiliate program with attractive commissions.
Our affiliate commission policy is:
👉 For level 1: 9%
👉 For level 2: 6%
👉 For level 3: 3%
The commission will be based on the number of BNB that the lower level uses to purchase MNI tokens.
Example: Mr.David recruits Mr.Brian, Mr.Brian recruits Mr.Christopher, and Mr.Christopher recruits Mr.Mark. When Mr.Brian purchases 1 BNB:
> Mr.Christopher will earn 9% of 1 BNB, which is 0.09 BNB
> Mr.Brian will earn 6% of 1 BNB, which is 0.06 BNB
> Mr.David will earn 3% of 1 BNB, which is 0.03 BNB
The earned commissions will be transferred to BNB Wallet so that they can be withdrawn to a bank account or sold on the Binance exchange.
Tokenomics:
Token Name: Map Node

Token Symbol: MNIM

Decimals: 18

Max. Supply: 500,000,000

Token Platform: BSC BEP20

Token Standard: BEP20
Distribution:
Marketing: 10,000,000 | 2%

Seed Round: 20,000,000 | 4%

Angel Round: 30,000,000 | 6%

Private Round: 40,000,000 | 8%

Publish Round: 50,000,000 | 10%

Saving: 50,000,000 | 10%

Staking: 20,000,000 | 4%

Ecosystem: 40,000,000 | 8%

MN To Earn: 100,000,000 | 20%

MN Pool: 40,000,000 | 8%

Bounty: 20,000,000 | 4%

Team: 30,000,000 | 6%

Liquidity: 40,000,000 | 8%

Advisor & Experts: 10,000,000 | 2%
Roadmap:
01 July 2022
Building a global Map Node ecosystem platform

Build social channels Facebook, Twitter, Instagram, Telegram, Discord, Youtube, Support Channel
03 September 2022
Officially open sale and launch Map Node platform globally through Seed Round, Angel Round, Private Round, Publish Round

Launch of the Saving
20 December 2022
Listing on PancakeSwap and 3 international DEXs

Web 3.0 Drink Coffee development

ISO (Initial Shop Offering)

First Drink Coffee demo

Full-scale platform launch
01 February 2023
Development of NFT Marketplace

First NFT pre-orders

Launch of the NFT token

Full-scale platform launch
15 May 2023
List Map Node token on CoinMarketCap, Coingecko, Coinnomi, LiveCoinWatch

Integration NFT auction system

Launch of the Staking

Development mobile app for iOS and Android.
01 December 2023
Launch Liquidity Farming

Launch Token Launch Platform

Launch Dual Investment

Launch Auto-Invest
15 June 2024
Launch Map Node Pool

Application for crypto exchange
Audit Smart Contract:
While blockchain may be the next step in the digital evolution, specific implementations of the technology are still susceptible to risk. This will call for audit to play a pivotal role, not only in providing traditional assurance but also acting as a trusted business advisor in anticipating and evaluating these new and emerging risks.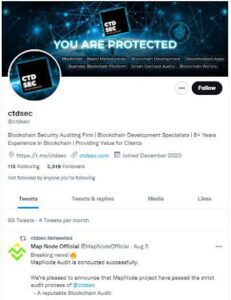 We are pleased to announce that MapNode has passed the strict audit process of CTDSEC – a reputable blockchain audit that has more than 7 years of experience and is one of the most trusted smart contract security auditors!
Smart contract security auditing is a thorough analysis of a blockchain applications' smart contracts in order to correct design issues, errors in the code, or security vulnerabilities. 
✅ To read the full report, please visit https://github.com/JorgeRodriguezsec/CTDsec/blob/main/Audits/Cybersecurity_Audit_CTDSEC_MapNode_v1.pdf
Team Member: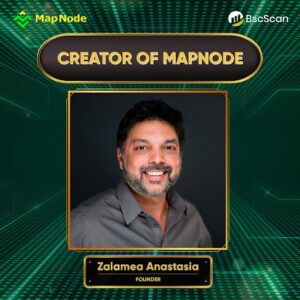 MapNode is a decentralized financial infrastructure on Bsc Bep20. The company was founded in January 2022 by Mr.Anastasia, with the headquarter located in California, United States.
In the capacity of professional experience, Mr.Anastasia has worked for various organizations and international companies. He also has more than 10 years working in the digital marketing, affiliate marketing industry, and internet marketing.
In term of education, he graduated McCombs School of Business in Texas with a high score, and MIT Sloan School of Management. Alongside with it, Mr.Anastasia has diverse skills in finance, marketing, and management.
Social Link:
Telegram Community: https://t.me/mapnodecommunity