Is it still possible for bitcoin to reach $100,000? See what should happen to achieve it
Key facts:
Analyst projects that bitcoin will reach $100,000 if "people lose faith in the dollar."

He believes that demand for the dollar could fall in the event that the Fed fails to lower inflation.
Predictions that bitcoin (BTC) will reach $100,000 in the long term still continue among the bulls, even despite the fact that it fell to the $19,000 level these days. This new level means a depreciation of 70.5% from its historical high of almost USD 68,000 reached 10 months ago in November 2021.
Cryptocurrency analyst Nicholas Merten told his half a million followers on YouTube, that bitcoin it could eventually reach $100,000. It seems that such a rise would be like that of gold in the 1970s. But first consider that it will probably continue to fall to perhaps 85% from its all-time high.
"We could start to see asset trading very similar to gold. I'm going to present the case today about how bitcoin could very well be that asset. Especially after going through a steady decline of 75% or so far. And it will probably go through a decrease of about 80-85% at a minimum," he expressed on his YouTube channel called DataDash.
He argues that after bitcoin finishes falling, "really green pastures" will come. He expects that it will reach six figures towards USD 100,000 – 200,000, as he remembers that many people projected in the bullish rally last year.
The reason he envisions this future for bitcoin is that "people will start to lose faith in the dollar, the world's reserve currency". Faced with that scenario, he estimates that the demand for the cryptocurrency will grow, which will cause its price to increase. He remarks that such a situation would be similar to how people moved their capital to gold in the 70s.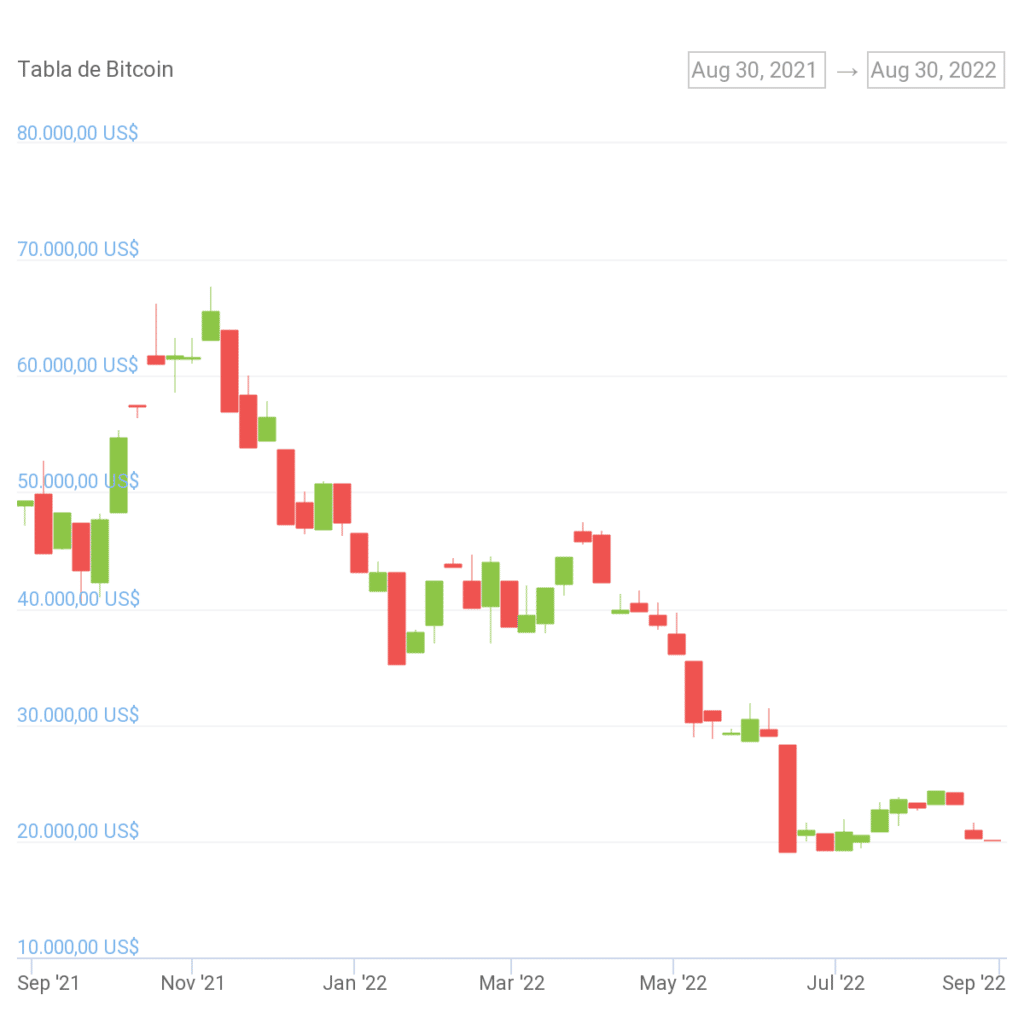 For the analyst, if people prefer bitcoin instead of the dollar, it would reach USD 100,000
If the US Federal Reserve (Fed) cannot lead the way in cooling inflation, we are going to lose faith not only in the dollar. We are going to lose faith in the global range of fiat currencies.

Nicholas Marten, cryptocurrency analyst on the DataDash YouTube channel.
The specialist concludes that "if there is no stability in the dollar, there will be a lot of global liquidity that will want to go somewhere." "And that's exactly what happened to gold in the 70s," which is why its price rose back then as it could with bitcoin, he highlights.
Meanwhile, the dollar is at its strongest moment in the last 20 years as the low demand for risky assets, such as bitcoin, continues. However, if the Fed fails to resolve inflation, Marten thinks the dollar could fall, following other fiat currencies that are being devalued such as several in Latin America and the euro. He understands that such a scenario would favor the demand for bitcoin and its price.
Jerome Powell, the Fed chairman, said this week that solving US inflation will "take time," as Crypto News reported. This year the American power is going through the highest inflation in its last 40 years.