Seedify announces cross-chain integration with Ethereum network to boost growth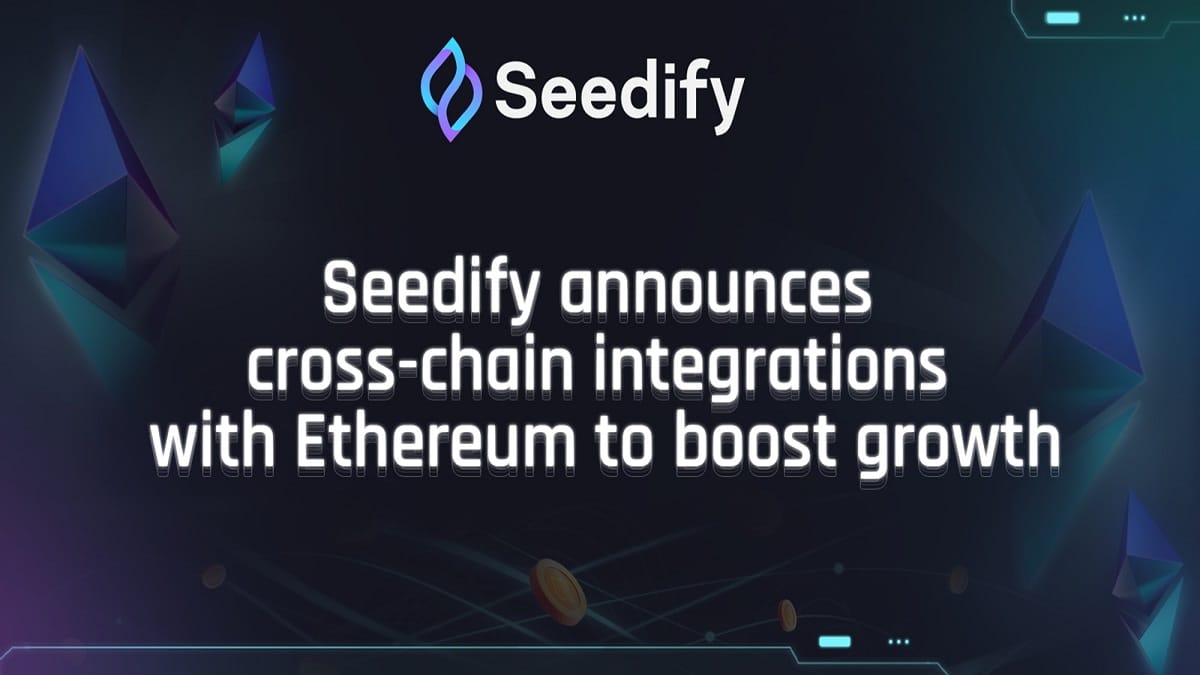 Key facts:
To extend the reach of the ecosystem, Seedify will be adding $SFUND/ETH farms very soon.

Seedify will hold surprise events to increase the exposure of $SFUND to Ethereum users.
The long-awaited Ethereum merger (software update) will most likely occur in September of this year, this will be the largest fundamental change in the history of cryptocurrencies.
The network has suffered an immense increase in traffic and uncontrolled spikes in gas tariffs (transaction fees). The merger will finally alleviate these bottlenecks, making the network even more secure and consuming less power by switching from the proof-of-work framework to the proof-of-stake one.
Ethereum has been predominantly the most popular network for new blockchain participants, as well as for NFT users.
Seedify integrates with Ethereum
While Seedify is eagerly awaiting to see one of the biggest breakthroughs in the crypto industry so far, it is also prepared to integrate with the enhanced Ethereum network by opening a parity pool between its native token, $SFUND and Ethereum ($SFUND/ETH).
The integration will allow Seedify to expand its community, reach new audiences and facilitate the adoption of new owners, participants and farmers in its ecosystem.
With the multi-chain support provided, anyone using the Ethereum network will be able to adopt Seedify's tools much faster, thus adding an additional layer of growth to boost their utilities and $SFUND.
In an effort to extend the reach of the Seedify ecosystem, they will also be adding $SFUND/ETH farms very soon, to ensure that the liquidity of $SFUND on Ethereum provides a healthy trading economy.
Seedify will also hold surprise events to increase the exposure of $SFUND to native Ethereum users in order to increase the visibility of $SFUND on the Ethereum network.
Transferring $SFUND between BSC and Ethereum:
Users who want to enjoy the new implemented transfer can simply follow the following easy-to-use tool to seamlessly transfer $SFUND between BSC (Binance Smart Chain) and Ethereum:
Go to https://multichain .xyz/
Click on "Enter the application" (or, alternatively, go directly to: https://app.multichain.org/#/router )
Connect your wallet (make sure you are on BSC Smartchain)
On the provided dashboard, be sure to select the following networks: BNB Chain Mainnet at the top and Ethereum Mainnet at the bottom
Select $SFUND by searching for the token name in both fields for tokens
Enter the amount of $FUND you want to transfer
Click on "Change" at the bottom
Click "Confirm"
$SFUNDs will be transferred to the Ethereum network in minutes
Holders can also transfer $SFUND from the Ethereum network, the process is similar, except that the first field must be changed.
There is no commission deduction when transferring purchased $SFUNDs from the Ethereum network to BSC Smartchain.
Cross-chain transactions are very simple and accumulate only a small fee for completing the transfer.
The Seedify contract addresses are as follows:
BSC Network: 0x477bc8d23c634c154061869478bce96be6045d12
Ethereum Network: 0x461d52769884ca6235b685ef2040f47d30c94eb5
To learn more about Seedify and buy $SFUND, check out their website
To keep up to date with Seedify's announcements, be sure to follow their social media links:
Twitter ‖ Telegram Announcement ‖ Telegram Chat ‖ Medium
Media Contact:
Laura Mallory, PR and Content Marketing Manager / laura@seedify.fund
---
Disclaimer of liability: The content and links provided in this article serve informational purposes only. CriptoNoticias does not offer legal, financial or investment recommendations or advice, nor does it replace the due diligence of each interested party. CriptoNoticias does not endorse any investment or similar offers promoted here. For more information click here.