What are the cryptocurrencies with the best profits since their creation?
Key facts:
ETH, BNB, XRP, ADA, SOL, DOGE, DOT, MATIC, SHIB and TRX are the 10 largest capitalization altcoins.

Of these, BNB is the cryptocurrency that has risen in price the most since its creation.
Of the cryptocurrencies with the largest market capitalization, there are some that stand out for having achieved greater performance since their creation. Even though some were created later than others, according to data collected on TradingView.
Of course, the market leader is bitcoin (BTC), given that it is the cryptocurrency that has been valued the most over time. Its price has increased by more than 600,000% since 2013 (date since which there are records, despite the fact that it was born in 2009). Then follows Binance's BNB since 2017 and ETH from Ethereum since 2015 that increased more than 200,000% and 100,000%. All this with respect to the US dollar (USD), the most used currency in the world.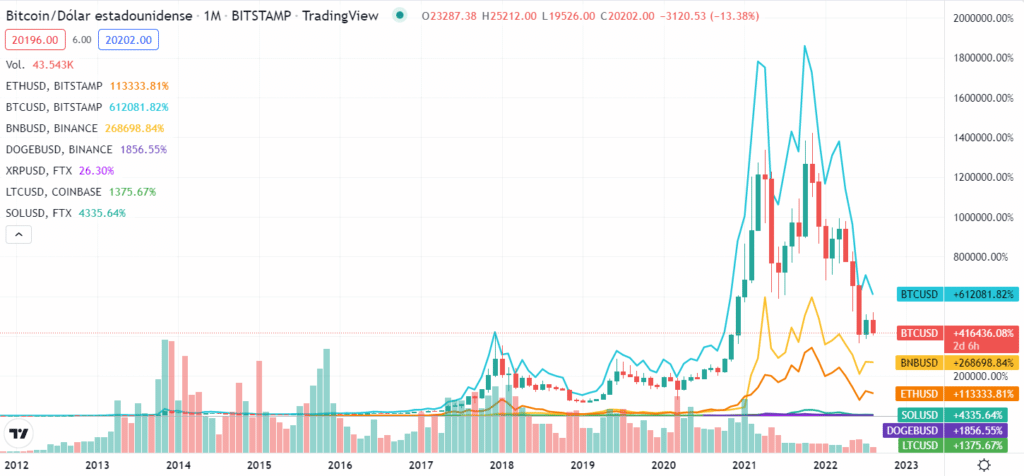 The rest of the altcoins of higher market capitalization have had lower returns since their inception, as the graph shows. It should be noted that all of these are currently in the middle of the 2022 bear cycle reported in Crypto News. Therefore, they have seen even greater gains up to the previous year.
Now, the thing changes if what we analyze is which of the 10 altcoins with the largest market capitalization have been valued the most in bitcoin. Calculating this, we see that the podium is led by BNB by a large majority and ETH drops several places.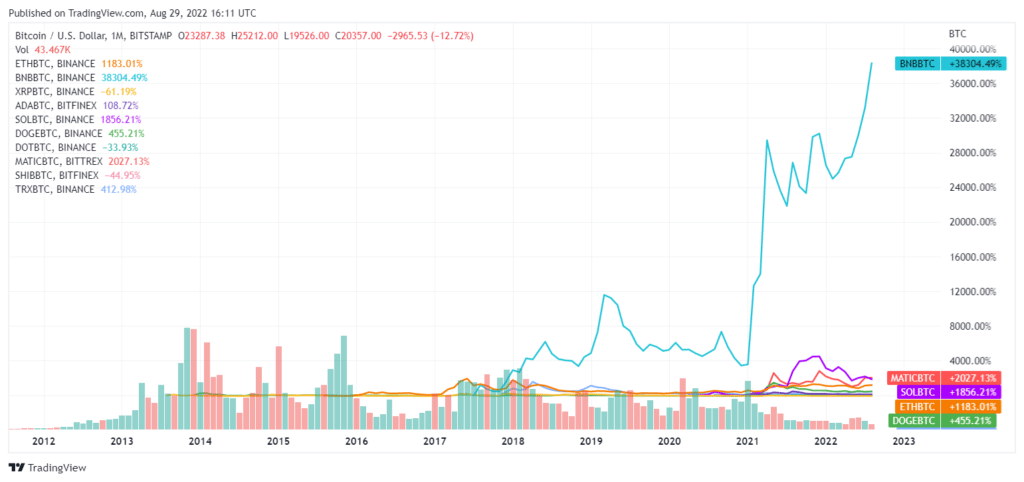 BNB, MATIC, SOL and ETH are the main altcoins that were most valued in BTC
Since its creation in 2017, BNB has been valued 38,300% in bitcoin and is currently at an all-time high. Then, it is followed by polygon (MATIC) with 2.000% since 2019, solana (SOL) with 1.800% since 2020 and ETH with 1.100% since 2015.
Just below, with around 400%, is dogecoin (DOGE) since 2013 and tron (TRX) since 2017. And in the end, cardano (ADA) with 100% since 2017. This is how the top 7 of the main cryptocurrencies that since their creation have made profits on bitcoin. The rest of the top 10 altcoins (DOT, SHIB and XRP) depreciated compared to BTC.
Meanwhile, bitcoin continues to dominate the market with the largest market capitalization totaling USD 384 billion. Just under half, ETH accumulates USD 183 billion.
Well below is BNB, XRP, ADA and SOL with a market capitalization ranging from USD 19 billion to USD 11 billion. And then DOGE, DOT, MATIC, SHIB and TRX from USD 8 billion to USD 5 billion, thus being the last of the top 10 altcoins with the most investment volume.