Iran makes millionaire payment with bitcoin for the import of goods
Foreign trade using bitcoin (BTC) and cryptocurrencies as a means of payment opens a new opportunity for Iran. A country facing economic sanctions implemented by the United States.
Iran had been preparing for a long time for the cryptocurrencies serve as a form of payment and according to Peyman Pak, Iran's deputy Minister of Industries and Trade, he has succeeded.
"This week it was successfully registered the first official import order with a cryptocurrency worth 10 million dollars", comment Pak on Twitter.
Advertising

Although Pak does not specify which crypto asset was used in the negotiation, the use of BTC is presumed. Considering that the country allows the use and mining of Bitcoin. And although it is a changing policy, possibly that digital asset has been the one used in payments.
This payment seems to be the first of many initiatives that will focus on digital assets for Iranian foreign trade.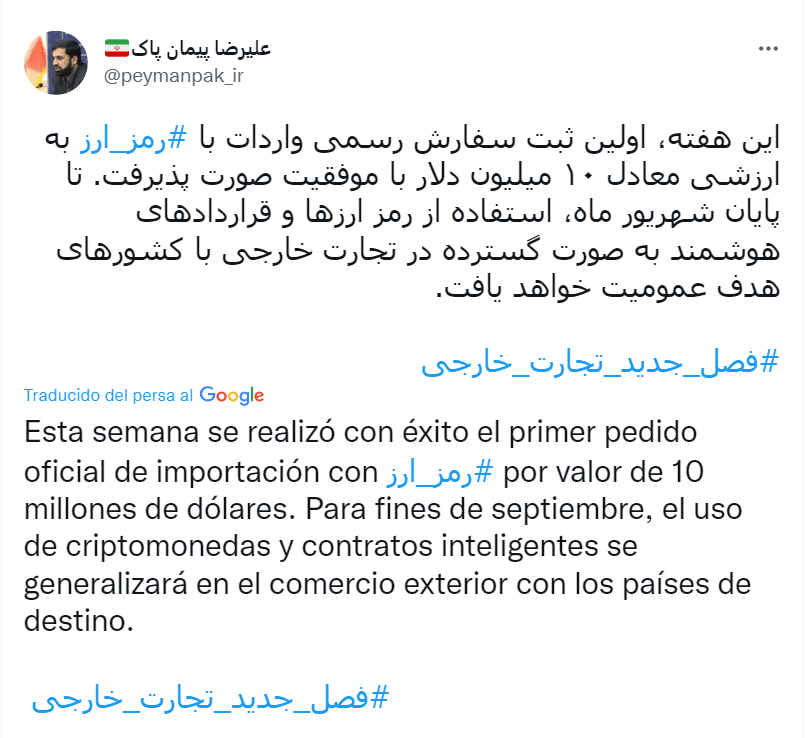 In that sense, Pak announced that, next September, the use of cryptocurrencies and smart contracts will be "generalized in foreign trade" with countries that do business with Iran.
How does the use of cryptocurrencies in foreign trade work?
To allow the use of bitcoin and cryptocurrencies, the Central Bank of Iran and the Ministry of Industries they integrated a cryptocurrency platform, belonging to the financial body, with the Integral Trading System (SIC), a fact that Crypto News reported.
The SIC has a mechanism that facilitates business processes for merchants and entrepreneurs Iranian.
The goal seems to be clear: to provide new opportunities for importers and exporters to use cryptocurrencies in their international agreements. All this, in a framework in which the sanctions imposed by the United States seek to suffocate the Iranian economy. Bitcoin becomes on the main exhaust valve.